Encina High School
Class Of 1969
ANNOUNCEMENTS
•

WOW! WOW! WOW! Over 100 people attended our 50th Milestone Reunion! Based on all the positive comments, smiles, hugs, and tears, it was a GALACTIC success! If you attended, please click on our Message Forum page to post a comment to share your reunion experience. Click on our 50 YEAR REUNION PICS page for our reunion recap!


********

•

WELCOME TO THE ENCINA CLASS OF 1969
WEB SITE!

Click below to see our yearbook slideshow...

•

FIRST VISIT?

Then click on our First Web Site Visit page to find out how to use our web site and more!

•

SITE SECURITY

To increase site security, you will be 'verified' by the administrator before gaining access to all information that a classmate can normally view. We will send you an email asking you a question well known to Encina Alumni.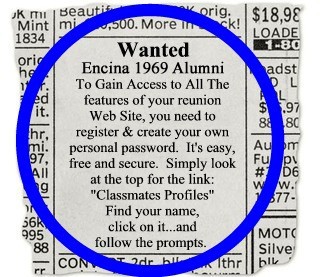 WELCOME to your very own Encina Class of 1969 web site created June of 2008! Your site allows you to easily:
Post information about yourself and your family.

Post current photos

Determine your own privacy settings.
Catch up with fellow classmates through email and/or your Message Forum page.
Enjoy photos and slideshows of your 20th and 40th reunions.

And lots more!
Join your class web site today and start sharing with your classmates!!!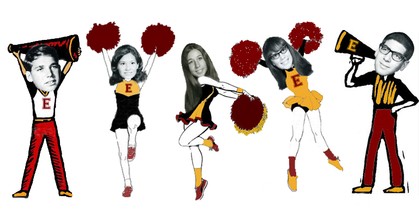 GO APACHES!!!
---