Encina High School
Class Of 1969
In Memory
Cynthia Smeeden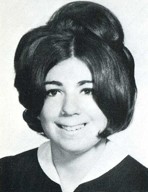 Passed away on January 26, 2002, at age 51, in Anchorage, AK.
Cynthia "Thea" Smeeden
Anchorage resident Cynthia "Thea" Smeeden, 51, died Jan. 26, 2002 at home. A celebration of life will be at 2 PM Feb. 10 at VFW 1685, 1200 W 33rd Avenue. Mrs. Smeeden was born March 28, 1950, in Malta. She later moved to Sacramento, Calif., where she graduated from Loretta High School and later earned a degree in cosmetology. Mrs. Smeeden moved to Anchorage in 1983 and was raised a Catholic. Some of her hobbies included styling hair, collecting angels, and, most of all, going thrift store shopping. He family said: "She was a unique and fun-loving friend to everyone that she met. She will be missed by all who knew her." She is survived by her son Sean Smeeden of Anchorage; mother Joy Ellen-Rittler of Sacramento; sister Sydney Brown and her husband Richard of Anchorage; brother Philip Smeeden and his wife Ellen of Wasilla; dear friend Douglas McCormack of Anchorage; and many nieces and nephews. In lieu of flowers, the family requests that memorial donations be made to the homeless shelters of the donor's choice. Arrangements were by Anchorage Funeral Home.
Published in the Anchorage Daily News, Sunday, February 3, 2002