Encina High School
Class Of 1969
In Memory
James Githens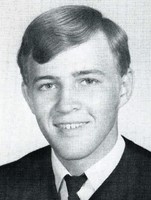 Passed away on October 20, 2013, at age 62, in Citrus Heights, CA.
James Henry "Jim" Githens

James Henry Githens passed away in Citrus Heights on October 20, 2013. He was born in Oakland, CA on February 18, 1951. Jim was preceded in death by his parents Dolores (nee Thornton) and Henry Githens. Jim attended St. Ignatius Parish School; Encina High School, class of 1969; and California State University Sacramento, graduating with a degree in Recreation Administration in 1974. He served in the Air Force Reserves for one tour. His career included positions as Recreation Therapist in Visalia, and for the next 23 years as Activity Specialist, rising to Director of the City of San Jose Community Center. Jim was caring and friendly in providing services to persons with developmental and mental disabilities. Jim also taught Special Education classes at DeAnza College. Returning to Sacramento, Jim taught for 12 years in the San Juan Unified School District at Pasadena and Dyer-Kelly Elementary Schools, retiring in 2011. Jim was an avid sports fan and played on several amateur softball teams. He enjoyed international travel and visited many parts of Europe. Jim greeted life with his wonderful smile which will be missed by all, including the wonderful caregivers at Manor Care. Jim is survived by his brother William (RoseMarie); sisters Judy Hardy (Alan) and Barbara Githens (David Amundson); two nephews, David and Matthew Githens; and niece Natalie Lessa. A funeral mass is scheduled for November 9 at 11 AM at St. John Vianney Catholic Church, 10497 Coloma Road, Rancho Cordova, with a social gathering following in the parish hall. Donations in his name can be made to Mercy Hospice, 9912 Business Park Drive, Suite 100, Sacramento 95827. He will be interred next to his parents in Canby, Oregon. Published in the Sacramento Bee, Nov. 2, 2013.